At Motivation Parlour, we have various services that we could offer you.
We are here to take care of your online business. As you will notice, 70% of marketers are deep into content marketing for their business. These statistics from HubSpot reveal more.
We have a list below of the various services we offer at a friendly fee. Likewise, our services are top-notch as you will find out from past clients and written samples.
Let's get down to services, we do well.
1. Freelance Writing & Blogging Services
Do you want to write about a topic on your website or blog but feel you need someone to help with you with that?
Well, I'm here for you and you can prove my worth by reading the blog posts on this blog. We can make you a superior in the industry by crafting and updating your website content.
There is a lot of noise and shallow content on the internet today. We don't join the crowd but do the opposite of what they do. Put another way, we make sure we stand out.
I do freelancing writing and blogging for blogs and websites. Once you get in touch, we agree on the prices for the blog or article you want to write.
My rate is $50/1000 words. I will be happy to work for you. Just shoot me an email or contact me.
On the table below, we highlight to you some of our published works from past and present clients:
Also, find testimonials from some of our past clients on Upwork .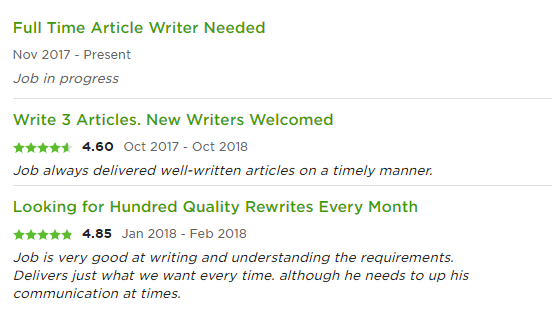 2. Product Review Services
I write product descriptions of products sold on Amazon at $20/500 words. Similar to article writing, we promise you product reviews that drive sales for you and generate a constant stream of revenue for your online business.
Take a look at some of our best pieces.
Published product reviews
3. Editorials
I can write editorials for you on any topic. I pen steamy editorials that send traffic and likes on your website or blog. News website companies have contacted me to write killer-punch editorials for them. I accept a payment rate of $0.15 per word. You'll receive what you like.
4. Press Releases
If you want to make known your new product, let's say a recent book, new business, or services, you can count on me.
I can write for you a press release article that markets your new product/services for the Media and target audience. I charge $20/500 words.
5. Web Development
Do you own a brick and mortar company and would like to take your business online?
If yes, then you are in the right place. We offer you web hosting and design solutions via WordPress.org. for a $150.
Some things you will need to do are:
Provide us with domain names, suggestions so we can do the search for you. If available, we shall do for you the registration have it in our server.
Provide us with content for your Home, About, and Privacy Policy Page.
We shall have your website up and running in two days.