Make Money Online: Why it's the Best Time for You to Get Started
This post contains affiliate links, meaning I may receive some coffee money if you make a purchase using them.
There are myriad ways to make money online. Freelance writing is the most common. I develop content for small and medium-sized businesses in Europe, North America, and Asian countries. As mentioned earlier in a previous post, content marketing is king.
Corporations, companies, and online businesses aren't shy to spend huge budgets to ensure their products and services reach their target market to drive leads and sales. If they find the skill they need, they won't be afraid to spend as much on you.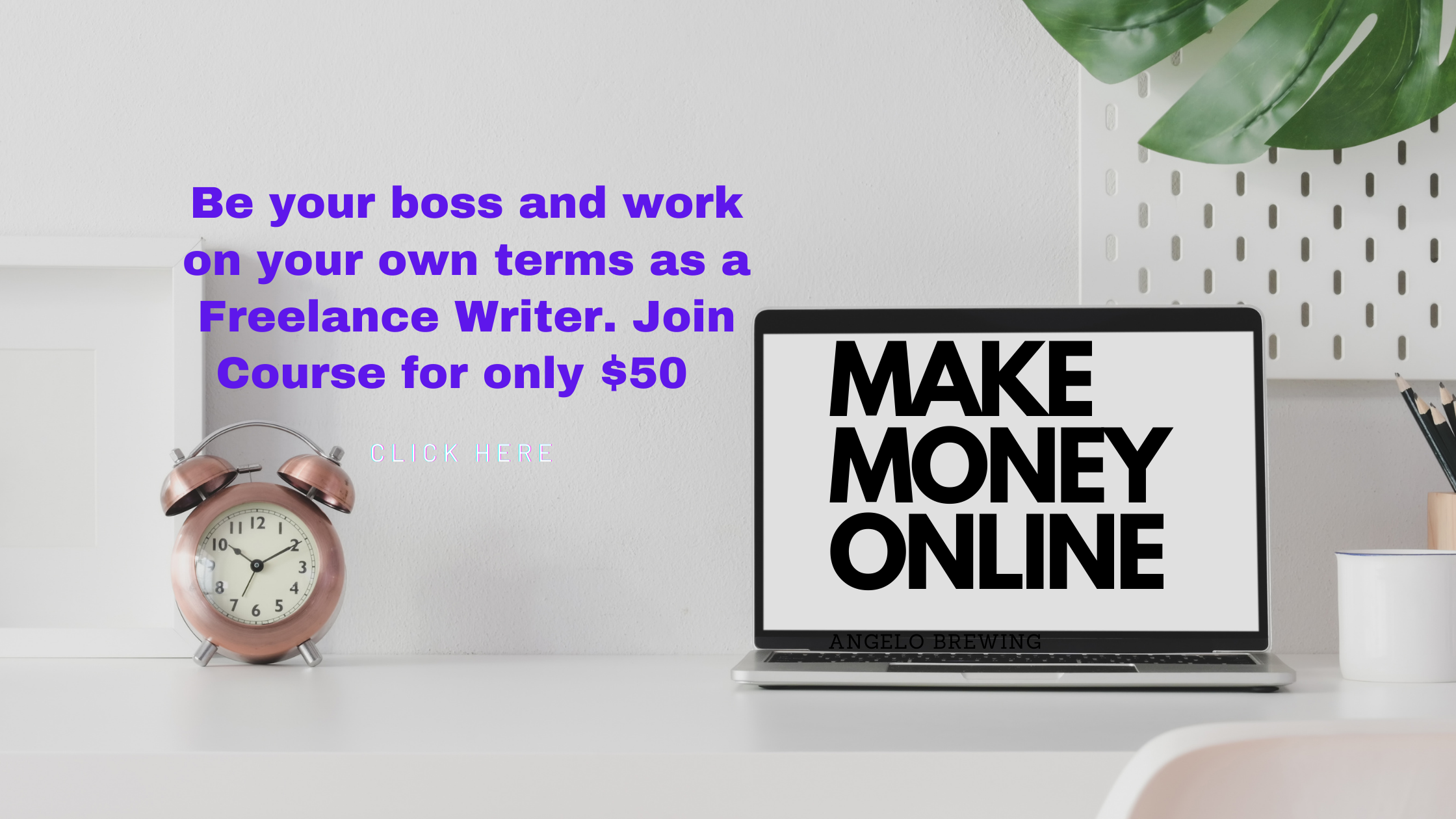 If you have been thinking about improving your earning power lately or have a second or third source of income and spare time, freelance writing should be your next frontier. Yes! You can make money online.
Why it's the Best Time to Make Money Online
Government supporting online work through Ajira Digital program
The internet is affordable and accessible
A tech-savvy generation that spends the better part of their time on the internet
Formal employment is becoming scarce by the day.
Due to the pandemic, many businesses have shifted operations online.
Schooling and Employment
Typical promises politicians make when campaigning is the creation of jobs, especially for millions of unemployed youth.
Unfortunately, such promises always end up being unfulfilled, and if fulfilled, it becomes so much dotted with corruption and tribalism.
In the public domain, jobs in Kenya are scarce, especially for fresh graduates, and the few you will find won't pay you much to your satisfaction apart from the many factors that may not even make the job convenient for you.
You are not a machine. The job you do has to give you some satisfaction, not necessarily in monetary gain but the peace and passion you will find in doing it. It should make you a better, all-rounded person.
So, what other options do you have left? Start a business? Yes, that sounds good. You couldstart a business onlinewhere you sell merchandise like shoes and clothing.
This is still good. Okay, where do you get the capital to buy the merchandise? Maybe borrow money from friends, family, or even enemies.
But this strategy could still backfire on you when friends tell you that's not an emergency, ati unaeza jipanga polepole.
The script I'm trying to put across here is, in most cases though not always, having a job is always the first step to building wealth. You will have to sell your time and skills for some bucks before those bucks start working for you.
And that's why you went to school in the first place, to get a good education that will give you a good job.
But don't settle there. The truth is education should not be about getting you a job. Education is a means to an end; it's the key to life. It should open the door to other lucrative numerous opportunities in your life.
The Cashflow Quadrant
Perhaps the Cashflow quadrant by Robert Kiyosaki could help shed more light on the abovementioned statements.
The Cashflow quadrant is abbreviated E, S, B, or I. The quadrant categorizes people according to where their money comes from. E stands for Employment. S stands for Self-employed, B stands for Business and I for Investment.
All people fall into either of the four quadrants, each having unique characteristics. According to Robert Kiyosaki, you can make money in any of the four quadrants.
However, you can achieve financial freedom much faster in the B and I quadrants. Making money online through freelance writing is an excellent opportunity for you to move from E to S.
Once you have gotten the gist of S, don't linger for long because it's the riskier part. Quickly move into building a system (quadrant B) that will have people work for you while you focus on the growth and strategy of your business.
The I quadrant is a playground for the rich with solid companies that can survive the unexpected shocks of investing.
Make Money Online: Freelance Writing
Co-relating this with freelance writing, you should not feel entitled to a white-collar job because you went to school. I know this sounds like an insult owing to the millions of shillings you pumped into the education system.
But there is your professional life and your path in life; ultimately, everyone must discover their path in life sooner or later.
Freelance writing may not seem like a real profession, but telling you that hiring managers prefer working with independent professionals rather than pensionable staff could tilt your mentality a little bit.
Research conducted in June 2020 by Dr Adam Ozimek, an expert in labour markets, showed that 47% of hiring managers in the US were more comfortable hiring freelancers than permanent staff.
That should tell you something. It's said that a good player plays with the ball but a great player moves to where the ball is going.
As much as you are working or have that job security, have you ever considered working as an independent contractor? Maybe freelance writing could be your starting point.
You could tailor your brick-and-mortar skills to meet its demand in the online space. I understand if writing isn't your passion because several online job opportunities aren't about writing.
Think about graphic design, Administrative support, Social Media Management, web development, or video editing.
The Bottom Line
It's never too late to start. If you have a passion for writing and want to make money online, you can visit ourcourse page and enrol in a freelance writing course for beginners to set you off on a journey to online content entrepreneurship.