Is Freelance Writing Worth it? Beginner's Tips ( Personal Perspective)
Affiliate Disclaimer: The following content contains affiliate links, and I will earn some coffee money when you make a purchase through them at zero cost to you.
Suppose you've been thinking about starting a career in freelance writing; there is never a better time to start. Several websites advertise remote freelance writing jobs, and you may just have a skill you haven't thought about monetizing yet.
I have made over 4000 US dollars as a freelance writer on Upwork alone, working part-time, exclusive of other remote freelance writing opportunities I landed via Facebook, Linkedin, and referrals.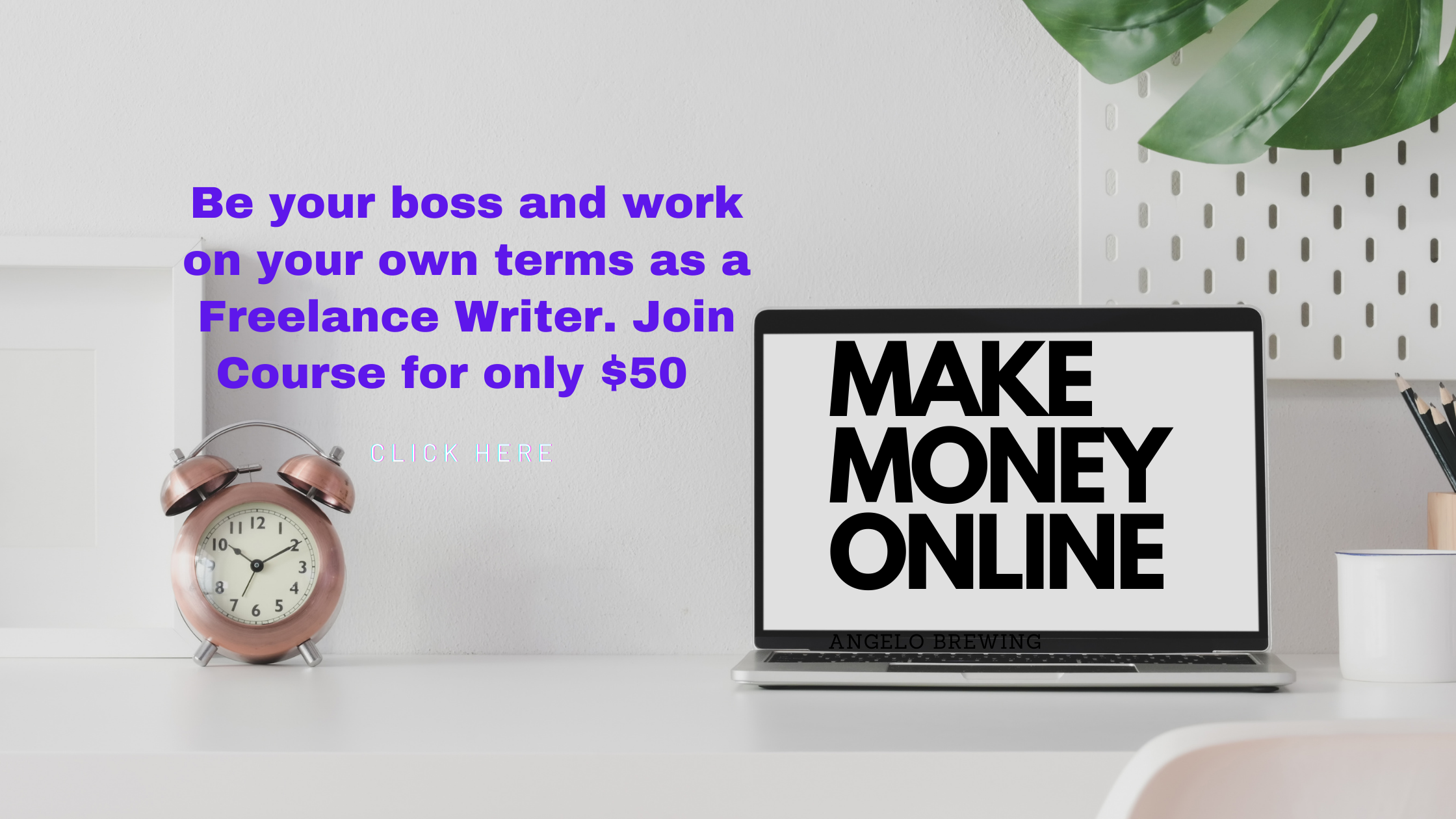 I developed an interest in freelance writing back at University. I shared that experience in one of the posts on this blog. I still make money from writing. A freelance writing side hustle is one easy way to make quick money once you land a good repeatable client.
Some people stumbled into freelance writing, while others like me deliberately found their way into it.
There is an old freelance website in Kenya I bumped into owned by the seasoned freelancer and internet marketer Walter Akolo. After much learning and enrolling on one of his freelance writing courses, I entered the freelance writing marketplace via Upwork.
As any newbie freelancer would attest, my earlier experience on Upwork back in 2017 was extremely tough. I would write cover letters/proposals to numerous clients in vain. The other problem I had was a lack of experience; thus had no killer punch freelance writing samples.
Luckily, I drafted one during my freelance writing coursework. Actually, this is how to start freelance writing with no experience.
Join a freelance writing course and work on the assignments provided. That way, you can get a few samples you can use when bidding for a freelance writing contract or job.
Here is a To-do List for You to Start Your Freelance Writing Side Hustle
Whether you've read about secrets to freelance writing, hacks to being a top-rated writer or entry-level freelancing, you need to read this like you're reading for the first time.
1. Invest in your Freelance Writing Training
The best way to invest in a freelance writing career is to learn from those who are successful in the craft. Which successful freelance writers do you know, and what can you learn from them?
Second, you can jump at many free courses online and upskill in the shortest time possible with commitment and determination.
To get you started on paid courses, here are some highlights of the best courses you can explore;
2. Bid for Jobs on Freelance Writing Websites
Getting your first freelance writing client will be the hardest, but you must be resilient. When I joined Upwork in 2015, I bade jobs for weeks before landing my first client. You need to be mentally strong and positive at this stage because giving up is the next easy thing.
Your experience doesn't have to be similar to mine, but you better be prepared for the long haul. The Upwork marketplace is saturated with low-rate freelancers, and as you start, you might find it hard to land clients with good pay rates.
That doesn't mean they don't exist, but you have to fish them in depth.
I have been making reference to the Upwork freelancing website because it's the one I'm most familiar with; however, there are several others, like Fiverr freelance writing and a list of others below.
Top Remote Job Sites
3. Leverage Social Media
In my six years of freelance writing, I have landed some of my best clients via Facebook. I have worked for online business owners in the US and Israel whom I bumped into via social media. My current frontiers are Twitter and Linkedin, where I'm looking to bag my new contracts sooner or later.
Get freelance writing clients on Facebook by joining local and international freelance writing groups. These are full of writing tips and usually have job promotions by different members from time to time.
On Twitter, you can follow freelance writing topics, other freelance writers and editors in-chief to get wind of new opportunities in the industry.
Linkedin is also another good platform to land clients, as attested by freelance writing clients I know about.
4. Build Your Own Brand Online
You need to know your words to be a good writer, but to be a great writer, you got to know how to market your services.
Some top-notch writers out there aren't known because they haven't taken the time to invest in marketing for their personal or business brands.
Here is my positioning on the Linkedin Profinder.
Here are freelancer tips on marketing and building your personal or business brand on Linkedin profinder.
You might be good at whatever skill you're good at, but if people don't know about it, you'll have to contend with longer dry spells.
My good writer friend David Olarinoye has built a huge following as a writer on Medium, and he offers some tips via his short causes online on how you can win the game of brand building.
You can follow the links below to find out more about some of his offers.
If you've been wondering how to build a portfolio for freelance writing, your online branding sets you up for that. Your online brand enables you to highlight your wealth of experience, skills and abilities to potential clients.
5. Answer Questions on Quora, Reddit, / Write on Medium
I'm yet to get established on these fronts, but I have already registered my presence in both of them with some substantial content. I'm a student of David O. when it comes to building a massive online following on a platform.
Medium is a good platform for you if you're just starting. You can experiment with different topics and find out which ones your readers will fall in love with. Second, Medium has a ton of great writers that you can learn about writing their craft.
I haven't been so active on Medium lately, but you don't want to miss an opportunity to build your own portfolio and publication.
The other frontier you need to jump at is Quora. Identify forums or spaces where you can be a subject matter expert or simply share what you know on a particular subject. Once you answer a question, you will keep receiving prompts to answer more that pop up in your space, and that's how you build your audience and content on Quora.
Freelance writing on Reddit is also an opportunity for you though I have zero experience here.
Wrap Up
So if you have been at crossroads about freelance writing, there is never a better time to get immersed in it.
Forget about the naysayers telling you online writing isn't lucrative. I can attest it pays the bills and can give you a mega lifestyle with the right strategy and consistency.
As shared above, you need to be aggressive in seeking freelance writing jobs remotely. Invest in yourself and buy some of the courses highlighted while you still can.
The journey to the top requires patience and consistency, and you'll sooner get there.