Are You a Recent Graduate? Consider Self-Employment
If you are a recent Kenyan graduate or through with your coursework and waiting for graduation, I must congratulate you for coming this far. It not only a privilege but an honor that you can be counted among University graduates in Kenya.
It is undeniable though, that many graduates feel not so confident about their hard-earned degrees because of the skyrocketing levels of unemployment in Kenya today. Of more concern is the fact our Universities are less focused on a learning system that encourage students to be researchers and entrepreneurs. Most of their learning systems are based on theory and lecture jargons at the expense of research-based learning that encourages students to be researchers, innovative and think out of the box.
Four years down the line, one comes out with a paper giving them the power to read and write and do what appertains to that particular BSc. or B.A degree but not so much to fit in a job marketplace. Many employers will confess that a particular candidate, though well-learned as their papers show, lack self-confidence, communicates poorly, has no career goals and cannot transform class learned material into real-life situations.
Such scenarios are not uncommon. It's pathetic that a person with a low-level education such as Diploma but vast experience tends to have an upper hand when it comes to employment, compared to a recent graduate. This is not to say that graduates come out of college half-baked. Most employers usually look for the experience which the graduate may be lacking at that particular point in time. Unfortunately enough, the graduate is not equipped and groomed to venture into entrepreneurship. What transpires is several cases of a graduate moving from one office to the other with no possibility of finding employment.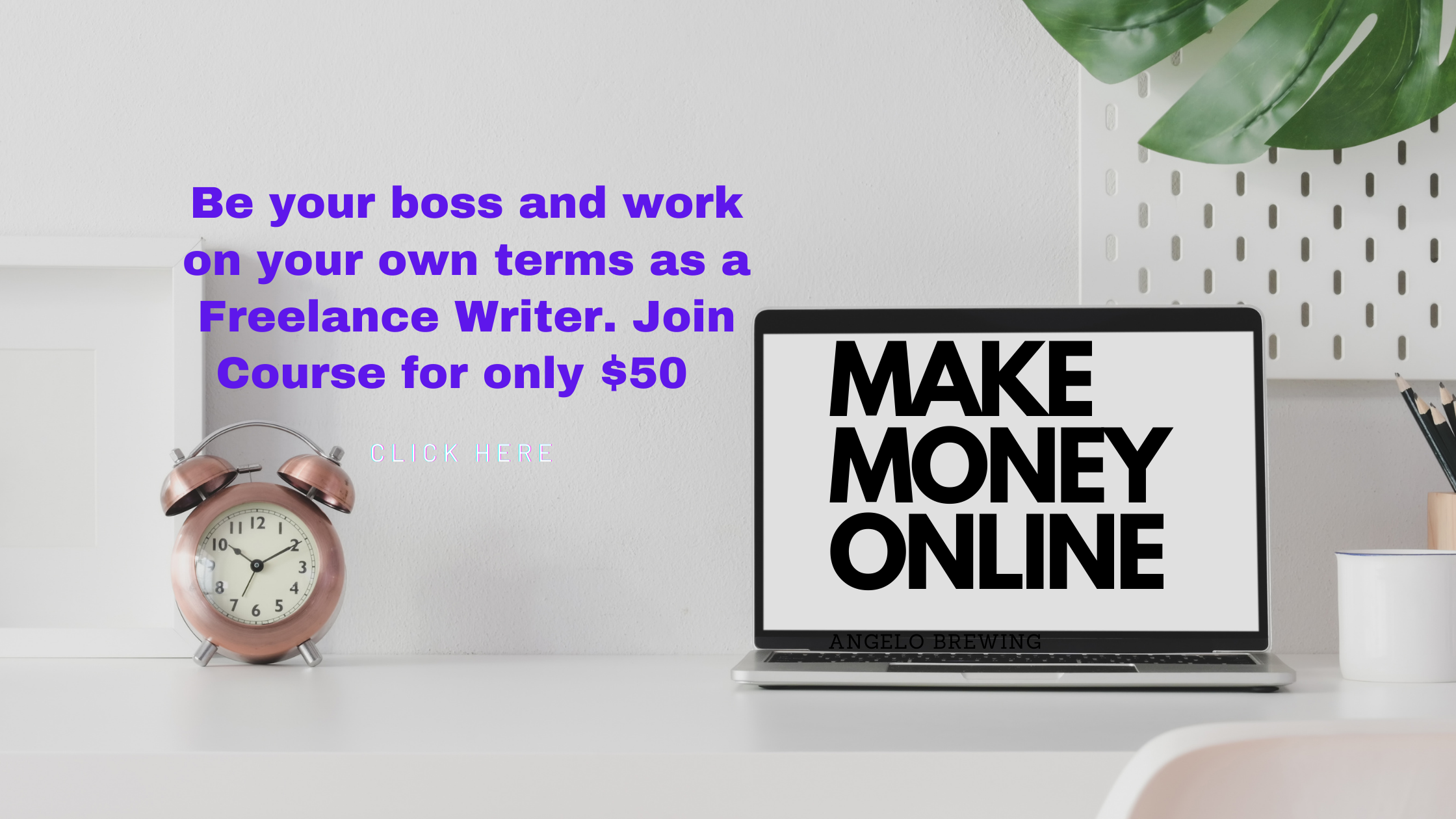 A study reveals that it takes an average of 5 years for a graduate to get employed in Kenya. Recently, a job posting was circulated through social media and thousands must have been on it sending applications and hoping to get considered. Interestingly, enough, the post had been send and resend all over till I also resend it to a friend who had sent it earlier to me. That clearly tells you the job desperation that recent graduates are going through right now.
Here is the job posting that was circulated via WhatsApp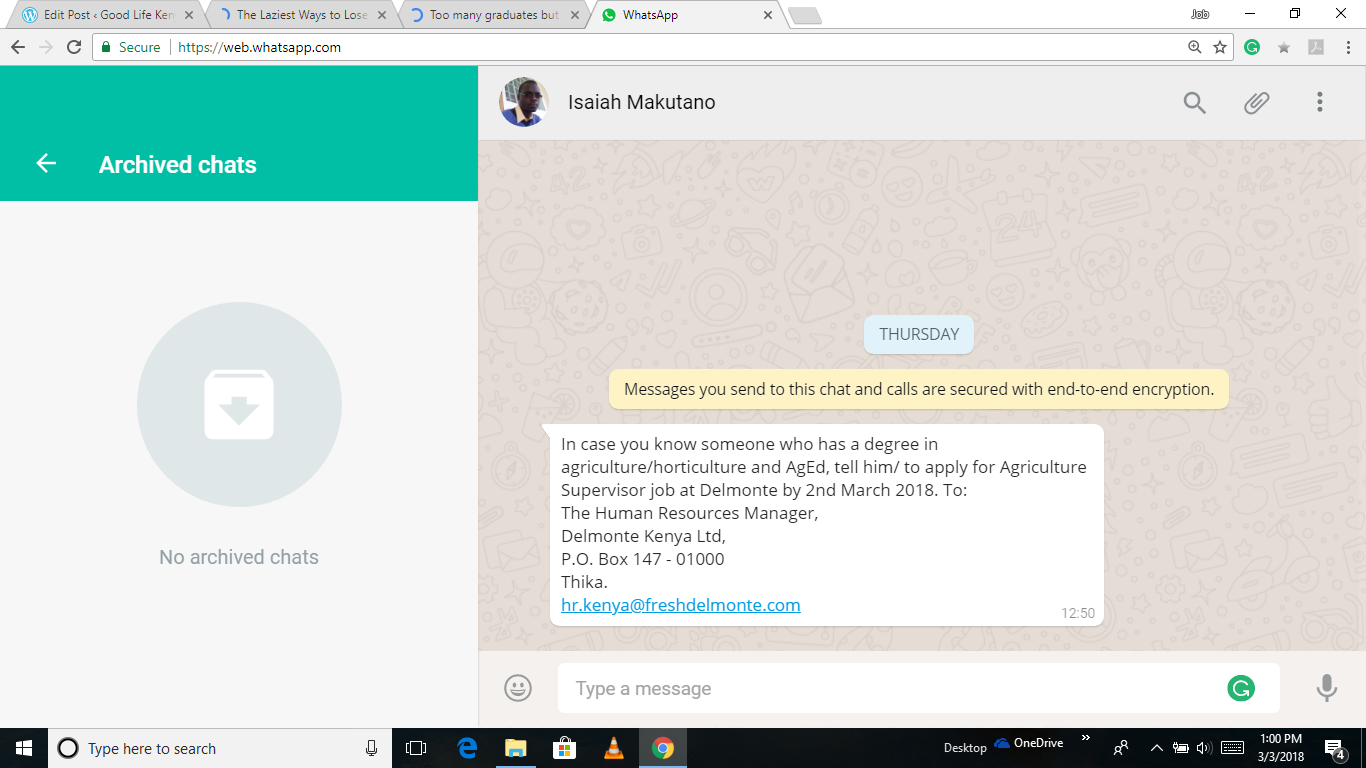 Currently, many graduates have resorted to online writing jobs as a way to cushion themselves from the biting unemployment levels. One such graduate was surprised to learn that she was a long time neighbor to another coursemate of hers who was living in the same neighborhood doing online jobs. Indeed, online writing jobs have become the order of the day as more and more unemployed youth continue to make a living through this new found oasis of online work.
Many seem to be doing well with online jobs, however, this should only be a means to an end. There is much you could still do online such as drop shipping, opening your own commercial blog or website, starting a freelance writing business or a blog on a particular niche.
According to Business Fundamentals, a book compiled by Global Text Project, if you think that you were not cut out to be an entrepreneur, you are wrong. Many were shunned and told they would amount to nothing but they went on to become very great entrepreneurs. To cut the story short, entrepreneurs are not born but made. The book mentions particular marks of an entrepreneur which sum up the mindset of an entrepreneur. These include:
Vision: Ability to create and communicate an easily understandable mission for what your new venture does in order to successfully launch a new business. This is accomplished while inspiring others to join you in your new enterprise.
Creativity: Ability to inject imagination and uniqueness into a new business venture. It takes skill and ingenuity to create a new venture equipped with strategies to outsmart the competition.
Focus: Able to maintain the vision of the company with unwavering diligence. It's very easy to get sidetracked especially if you find it necessary to evolve the original vision. Ironically, we have encountered many successful entrepreneurs who get bored easily.
Passion: Desiring to succeed under your own steam [initiative] on a business venture.
Drive: Possessing intrinsic energy to accomplish the business goal even in the face of adversity.
Perseverance: Able to keep going even when faced with seemingly insurmountable obstacles.
Opportunistic Nature sees the possibilities even before they exist. Can take advantage of an upcoming trend or unite unrelated processes to create a unique business venture.
Problem Solving Ability: Thrives on coming up with solutions to complex challenges.
Self-discipline: Able to be organized and regimented in pursuit of a successful business venture.
Frugality: Knows how to stretch every cent so that expenditures are as low as possible.
Empathy: Able to put yourself in another's shoes and therefore able to show sensitivity and understanding of what others are communicating in the startup environment.
Social Responsibility: Ethics, caring, and humanitarianism are characteristics that are commonly found in today's entrepreneurs.
Spirituality: We have found that successful entrepreneurs have often devoted time to spirituality development. Meditation and positive affirmations are two common examples of spirituality.
Good Timing: Able to identify a market opportunity and know when it's the optimum time to launch a new venture or expansion of an existing enterprise.
You are the only limit to what you can do. Sheryl Sandberg says it all in her quote that we hold ourselves back in ways both big and small, by lacking self-confidence, by not raising our hands, and by pulling back when we should be leaning in.
With the current employment status in Kenya, Kenya needs visionary entrepreneurs who will rise up to the occasion and begins startups and ventures that will transform Kenya's economic landscape thereby creating more jobs and making life economically better for Kenyans.